Once a Perinatal Care leaves its mother's uterus, noise and light will adversely affect it and increase the risk of infection. Heal Force developmental care solution for premature infants treats the child as an individual, with the goal of improving the quality of long-term life, manages the comprehensive information of the child through the NICU clinical information management system, and integrates infant incubators and infant radiant warmers, neonatal monitors, ceiling pendants and other special neonatology equipment, help developmental care, give premature babies less sound and light stimulation, mobile touch and a comfortable sense of boundary, creating a suitable microenvironment to improve the survival rate of premature babies. In the nursing process, individual differences should be taken into account as well as the impact of environment and family on the growth and development of children.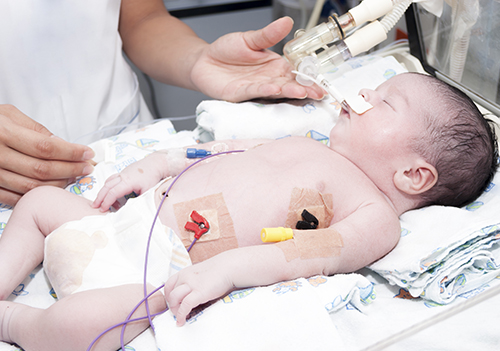 Heal Force developmental care solution for premature infants features constant temperature and safe warming equipment to simulate the uterine environment to maintain appropriate temperature and humidity, and perform "bird's nest" care to increase the sense of boundary security for premature infants. At the same time, a blue light therapy instrument with adjustable intensity without sacrificing the microenvironment is used to avoid secondary damage. We advocate developmental nursing and are committed to solving the problems of pain, jaundice, sound and light damage, and susceptibility to infection that are easy to occur in nursing for the NICU department.
The role of Heal Force developmental nursing solution for premature infants
Maintain vital signs
Promote the speed of weight gain, and start assisted feeding early
Promote digestion, reduce gastric residual volume and reflux
Promote coordinated physical activity in premature babies
Make premature babies self-soothe
Promote treatment and reduce hospitalization days
Heal Force Developmental Care Solution Products for Premature Infants
Infant incubator
Computer box temperature control and skin temperature servo control, all-aluminum channel steel middlebox, help the temperature in the box to be uniform, improve the survival rate of newborns; dual-channel dual-sensor plus analog system protection, triple safety guarantee; unique three-level alarm function with a transmission distance of more than 8 meters makes it safer and more reliable to use. Optional blue light for the treatment of neonatal jaundice.
Floor-standing blue light therapy machine-neonatal jaundice treatment
The fanless ultra-thin headlight panel design reduces the chance of irritation and infection to children, and ensures the uniformity of light; 0~99 levels of light intensity are steplessly adjustable to prevent excessive phototherapy; the clustering controller can accurately control and calculate the time, and the angle is adjustable; it can be used with neonatal radiant warmer and baby incubator.
Ceiling blue light therapy machine-neonatal jaundice treatment
Four suction cup holders, which can be placed on the hood of the baby incubator; large disc multi-point light source, steplessly adjustable from 0 to 99 levels, to prevent excessive phototherapy.